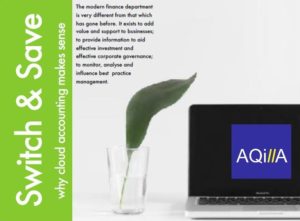 Reasons to Switch the Accounting System used by your Accounting Service
There are many reasons why more and more companies are choosing to switch from traditional legacy, on-premise solutions to modern cloud based accounting software. And if you have outsourced your finance function to an accounting service company, then the system is probably not even on-premise, but at the accountant's office.
Here we look at some of the most frequent drivers which have helped a growing number of organisations save time and money.
Cloud or 'web-based accounting' is a modern approach to a traditional challenge – a complete accounting system that is hosted and managed by a specialist service provider and accessed by users over the web via an internet browser for a small monthly rental or subscription fee. Sometimes referred to by various other terms, including 'Hosted', 'On-demand' or 'Software-as-a-Service' (SaaS), cloud based systems offer organisations of all sizes and types access to the latest software without the need for capital investment in hardware and licences, or ongoing management and upgrades.
Such an approach consistently demonstrates a range of benefits. At the "Why Cloud? Why Now?" event hosted by the ICAEW in London, a broad range of users who had adopted cloud based solutions cited amongst others reasons a desire to eliminate waste by interfacing with line of business systems; to reduce data entry; reduce the time taken to close off month end (on average all had managed to bring this down from 10 days to 5 days); remove the need to maintain expensive servers and other internal IT systems, and also benefit from the flexible subscription models available. Most noted the modern solutions selected had made it easy to migrate from previous software – each had been able to "wrap the system around" their business and not the other way around.
As well as distributed organisations being highly suited to the Cloud, Aqilla was singled out in terms of offering affordable and simple to use tools more commonly found at a corporate level whilst its 'rough book' capability provides instant on-demand adaptive planning.
1.    You use an 'in-house' system at the accounting services company
When you set-up your business, you were not sure how the company would grow and you didn't have the resources or money to employ your own in-house accounting. So you signed up with an accounting service and started to use their internal system. You also did not select the system and so you do not even know if it is the best for your company or that you could use something better and more suited to your needs.
Every time you have considered whether to move the accounting service in-house, the cost of buying the software and the time and cost to implement makes it look expensive, complicated and difficult. In addition you will need to purchase a new server and probably employ more staff. Possibly just the thought of trying to select which accounting system to use makes you say, no thank you, not now!
In addition, so long as you keep paying the accounting service the monthly support fees for the current software and the monthly service charge for maintaining your accounting records and producing the reports, everything will continue as before. If it's not broken…don't fix it eh?
Yes, well except for the fact that the reporting is slow. You do not have on-line business information from the accounting system to make decisions with, you are probably duplicating information in your own in-house systems so that you know what is happening, and then maybe the sales invoices are being entered into two separate systems.
On top of that, not only can you not get the analysis you need, you cannot access it from the office, never mind from home. Is it time to change?
2.    It doesn't actually do what you want it to do
You bought the use of an accounting system through the accounting service, but now the business has grown and is continuing to grow. So you bought software to handle customers – CRM, then you needed something to bill them with. To handle expenses someone sold you something else. Then for inventory you needed another system. For some unfathomable reason this also meant you are having to employ an IT guy to maintain the file servers you had to buy and the office network.
You started with a simple network, but linking in your new office overseas has added a whole new level of complexity. They also need to handle clients, issue invoices, record expenses and possibly handle inventory.
Maybe it's time to change to one solution that can do all of the above?
3.    Does your system support your modern, mobile and flexible work?
Flexibility is a key benefit of cloud based applications with users directly benefiting from the ability to share information more effectively across the business. In particular this lends itself to new forms of working practice, in particular:
Mobile, Home & Flexible Working
Given all that is needed is an internet connection and a browser, customers can easily make provision for staff who travel a great deal (you can even run Aqilla over a 3G or 4G connection on an iPad); staff who work from home (without the complexity of providing additional communications equipment or software); and finally for those that work, for whatever reasons, irregular hours (the system is available 24 x 7 enabling customers to choose when they access the system) rather than constrained by the physical constraints of a single office location.
BYOD
Because Aqilla is built using industry standard open source tool sets, users are free to select their own technology platform whether it be Windows, Mac, Android or Linux making good use of modern work disciplines such as BYOD (Bring Your Own Device) which provide additional organisational flexibility.
The Environment
With no CDs to distribute; the use of shared computing power across a wide range of customers resulting in less resources required per individual user; documentation made available on line; the ability to share in real time information inside and outside the organisation with trusted partners and advisers from anywhere at any time without the necessity for physical transit, Aqilla goes a long way to help an organisation reduce its environmental footprint.
4.    Vendor Behaviour
Does your accounting service listen to you? Are they interested in you as a customer or just your monthly service payments? Do they measure themselves in terms of satisfied customers and referrals or the scale of their annual income?
A customer is worth so much more than a service contract. It's about a partnership.
If they do treat you as a partner there is no reason why they cannot continue to provide you with accounting services. With Aqilla you can handle the business functions you need in-house like customer invoicing and collection, expenses, and inventory, whilst the accounting service handles the 'accounting' part of Aqilla, such as salary, bank reconciliation, monthly closing and reporting.
Maybe it's time to change to a solution that works the way you do?
ABOUT AQILLA
Aqilla Limited, founded in 2006, is the developer of web-based accounting solutions designed for mid-sized businesses and organisations. The multi-currency products it supplies are easy to use and can be up and running in hours not days, saving spending money on expensive training and consultancy. A document centric approach to accounting provides Sales Ledger, Purchase Ledger, General Ledger, Cash Matching, Sales Invoicing, Purchase Invoicing, Procurement, Time Sheet, Expense Management, Project Costing and Budgeting functionality enables an organization to easily track income and expenditure across an almost unlimited range of analysis.
In addition, because it is delivered on-demand, Aqilla removes the need for high levels of capital outlay, as well as the ongoing expense of maintenance and management..
We would be delighted to show you what we can do, and how we can work together to grow your business. Contact us to arrange a demo or to request additional information or email [email protected]